Top 5 Consumer Electronics Trends in 2022 to Improve CX
For businesses in 2022, customer experience (CX) will be a major priority. Using technology-driven solutions to the challenges of developing deeper connections and relationships with their customers, brands will build on their achievements (and learn from their failures) over the following year.
The consumer electronics industry is showing no signs of slowing down in terms of revenue or innovation and is still one of the fastest-growing and most dynamic industries. The pandemic-fueled home entertainment boom and the digital revolution have boosted the sector in recent years.
In 2022, the worldwide consumer electronics market is expected to generate $755 billion in revenue, according to a recent estimate, a 3.9% yearly growth rate. Using customer experience (CX) to reach this market will be a major priority.
In the fiercely competitive consumer electronics sector, customer turnover is a big hurdle to long-term success. Every customer experience expert knows that retaining current customers is more cost-effective than acquiring new ones. In addition, long-term clients spend more money on a company's products and services than do new ones, but how do you get on a customer's good side?
Thankfully, the days of conducting infrequent focus groups and customer satisfaction surveys to gauge how effectively a product or service is satisfying the requirements of our customers are over.
Top 5 CX Trends in 2022
Customer experience, or CX, is the ‌total of your consumers' perceptions of their interactions with your brand or products and services. Your customers' experience with your company includes everything from how they navigate your website to how they connect with customer service and how they receive the product/service they purchased from you.
Among thee top consumer electronics trends out there that Customer Care Manager must prioritize, we selected the top 5 most critical ones:
Customer Service Automation
Research Online, Purchase Offline
Environmental Awareness
Mobile Commerce
A Different Way To Pay
Customer Service Automation
The quality and level of customer service provided by organizations is an important part of the whole CX. Customers are less likely to rate their interactions with a firm highly if they know they'll be put on hold for a long period of time, transferred across departments, or have had to deal with poorly-trained advisors who couldn't assist them address their problems.
Initial attempts to solve some of these problems were met with a lack of success due to callers becoming more frustrated with menus and speech recognition systems that didn't always pick up their accents.
In order to alleviate these problems, businesses are relying on AI—such as customer service chatbots that use natural language processing (NLP)—to complement these systems. We should expect chatbots to become increasingly adept at deciphering our intentions and anticipating our needs.
In 2022, we may begin to see voice assistants in offline retail, such as Alexa telling us where to find the things we need in the aisles of a supermarket. When it comes to understanding the substance of written and spoken communications, sentiment analytics will play an increasingly important role.
Research Online, Buy Offline
Another shopping trend in the consumer electronics market is referred to as "researching online and purchasing offline" (ROPO). It's a scenario where customers research the brand's websites and other sources of information, but they complete their purchase in-store. Consumers, especially those shopping for more expensive goods, want to be sure they're making the right choice by reading product reviews and ratings.
Identifying which products are most frequently explored online and purchased in-store is critical for brands. RPO's impact on sales can be tracked using GPS data or by counting the number of customers that click to see if a product is available in-store. Although ROPO is a developing trend, it is essential for brands to understand this purchasing behavior in 2022.
Environmental Awareness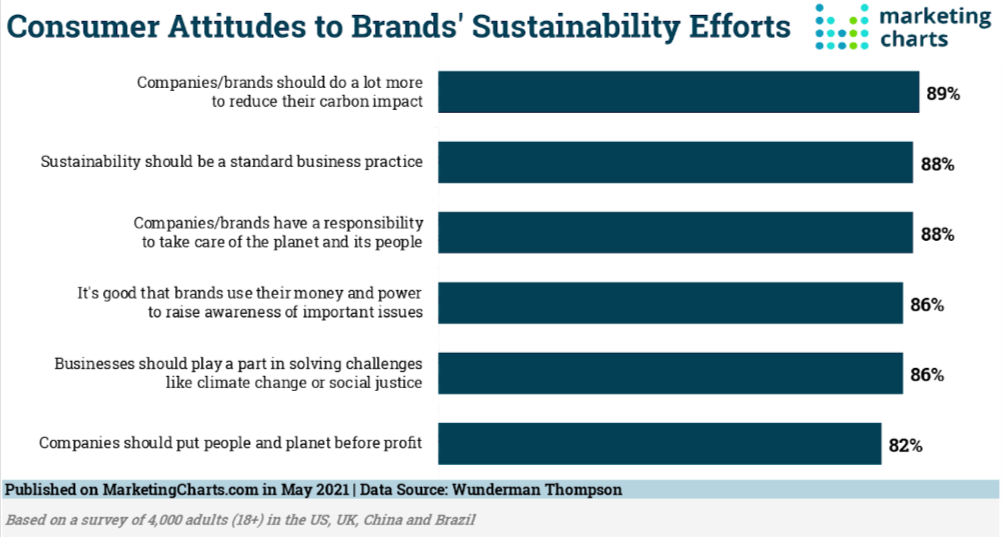 Due to the work of environmental activists like David Attenborough and Greta Thunberg, we are reaching a critical mass in environmental consciousness. More environmentally friendly and sustainable products are in demand due to this increased awareness. Now 88% of customers expect brands to help them live more responsibly.
Questions like, "Is this fair trade?" and "Was this grown sustainably?" are becoming increasingly common. Aiming for conscious consumption, customers are looking for ways to reduce the environmental impact of their purchases and, whenever possible, opting for more environmentally friendly options.
Mobile Commerce
The number of people using their mobile devices to conduct their shopping has risen in unison with the rise in the popularity of online shopping. In the coming years, mobile commerce or m-commerce is predicted to grow significantly. Global retail mobile commerce sales are expected to reach approximately $4.5 trillion by 2024, constituting 69.9% of total retail e-commerce sales.
Creating a mobile app, optimizing your brand site for mobile, employing messaging apps for marketing and customer support, and deploying geo-targeted ads on mobile for brick-and-mortar locations are just some of the ways brands can ensure they are optimized for mobile shoppers. If you follow these steps, you'll be prepared to fulfill the growing need for mobile commerce from your customers.
A Different Way to Pay
A new development in consumer electronics is the expansion of payment choices. Because of the speed and ease with which they may make payments, services like PayPal and Stripe are becoming increasingly popular among consumers.
Another payment method that has recently gained popularity is 'Buy now, pay later.' 'Buy Now, Pay Later' is a layaway concept that allows customers to pay for their purchases over time. Using a buy now, pay later model for high-priced consumer electronics products would allow people to purchase items that they would otherwise be unable to afford. A growing number of BNPL apps, including Klarna, have sprung up to suit this rising need.
Consumer electronic businesses should take advantage of these five CX trends. In order to attract and keep customers, organizations can place customer engagement at the top of their priorities by staying ahead of the curve.
Do you want to improve your business decisions by learning more about what your customers have to say? Make an appointment with one of our VoC analysts to learn more about how our AI-driven technology can provide you with deep consumer insights in any market segment.