Article
How Noisy Is Your Home? A Domestic Appliance Reviews Analysis of Noise on Satisfaction
The Business Intelligence team at Wonderflow presents another insightful market research on consumer electronics using the voice of the customer data. Specifically, they investigated a critical element of common household or domestic appliances, 'Noise,' and how such a feature drastically impacts consumer satisfaction.
One can say that their home is a safe place where you can mainly relax, especially from common daily life stresses or chaos.
However, very few people may have noticed that the number of domestic appliances (DA) in their homes significantly increases over time. Also, when many of these household appliances are regularly used, the home atmosphere cannot become such a relaxing or quiet place.
Many of us, for instance, own an air conditioner (AC) in the bedroom, which is perfect for hot summer days. However, not if and when it prevents us from sleeping. This is mainly due to the rattling of the AC fan. Tumble dryers, fridges, ovens, cooker hoods, or kettles are also other examples of household tools that can create distracting noises around the house, especially when left On all day.
After a while, though, some people may get used to the sounds of household appliances whirring, buzzing, humming, and so on. And yet, the awareness of how this kind of home noise pollution affects individual health is noticeably increasing.
According to the World Health Organization (WHO), being exposed to sounds or noises that exceed 55 Dbcan disturb sleep and cause stress. Thus, creating a negative effect on our overall wellbeing and health.
We also understand that when purchasing domestic appliances for your home, it is difficult to know if the chosen product will be 'noisy', especially with large household appliances. This is because most of the time it is nearly impossible to try the machine in-store.
Therefore, to help prevent this specific consumer issue, some manufacturers specify how many decibels are emitted by the appliance they create. Yet, still many customers sometimes cannot really understand what is the difference between, say, 36 or 52 Db.
Moreover, a UK-based consumer interview revealed that around 40% of people stop using technological appliances because of their noise. Thus, there's increasing importance on why consumer electronics (CE) companies, in particular, should deliver products that are not "too noisy." Simultaneously, they need to clearly communicate to consumers on the level of expected product noise.
Summary of Our Analysis: 11 Popular Household Appliances That Are Too Loud
To support our above recommendations, let's deep-dive into the research behind it.
We conducted a deep analysis of the domestic appliance market by focusing on these three main questions related to the consumers:
How important isNoiseon domestic-appliance (DA) purchase decisions?
What is the impact of Noise perception on customer satisfaction?
What are customers saying about DAs in their product reviews?
Furthermore, we considered these CE product categories below, which breaks down into large domestic appliances (LDA, 1 to 5) and small domestic appliances (SDA, 6 to 11):
Cooling (Fridge and Freezers)
Dishwasher
Hob
Washing machines
Ovens
Hair Care (Airstylers, Curlers, Dryers, Straighteners and Other Heatstylers)
Coffee Machines
Garment Care
Kitchen Appliance (Airfryer, Blender, Centrifugal, Kettle, Grill, Toaster, Microwave)
Male Grooming
Oral Healthcare
Considering the above groups altogether, we've analyzed approximately 900,000 ratings and reviews (see *appendix).
Reviewers were sourced from dozens of eCommerce platforms like Amazon, Walmart, and Mediamarkt - just to name a few, and across 10 different countries, including some in Europe and in the US.
Too Noisy, Indeed: Main Results and Findings
In this next section, we share some of our key findings.
We discovered that, indeed, Noise is a very common topic of discussion in the many consumer feedback analyzed on domestic appliances. Reviews relating specifically to LDAs contained the most mentions about Noise.
Table 1 below represents the overall popularity of the topic, including percentages of positive and negative reviews where Noise is mentioned and per DA category.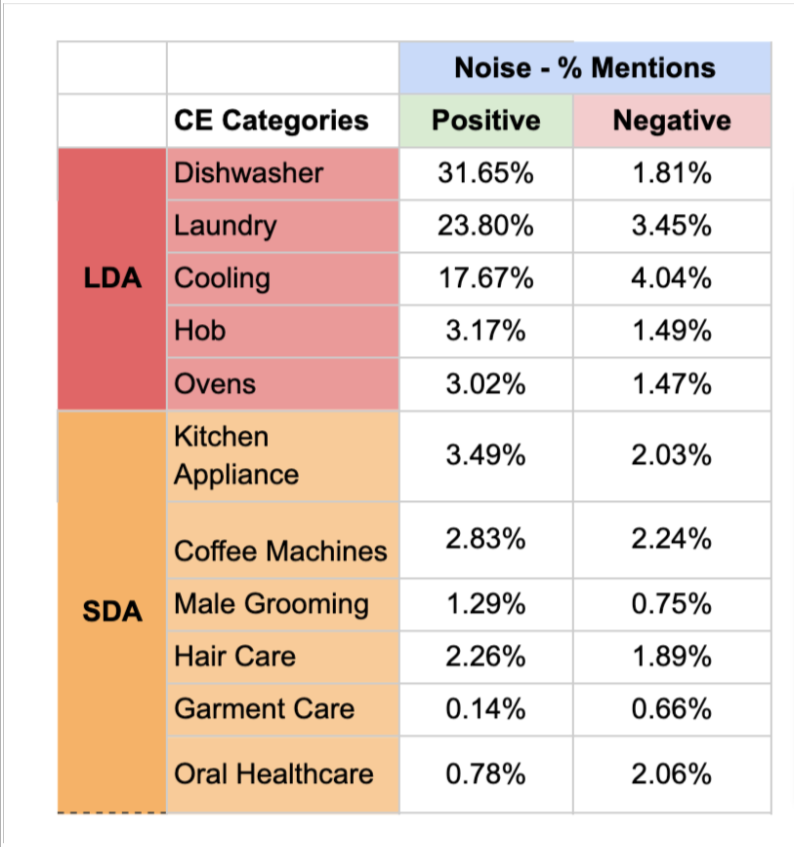 _Table 1: The percentage of (positive and negative) consumer reviews per domestic-appliance category and where the topic of Noise is mentioned (_Source: Wonderflow)
Looking at Table 1, we conclude that:
Around 1 out of 3 shoppers mentioned Noise when reviewing Dishwashers, leading the topic to be the most brought-up in this DA category. In other words, dishwasher-related appliances were commonly found to emit more (good or bad) sounds than expected.

Laundry and Cooling-related reviews are also categories where Noise was regularly mentioned but not as much as in Dishwashers.

In contrast, Ovens and Hob make up a much smaller percentage when it comes to finding mentions of Noise and in both positive and negative feedback.

For all

SDA

categories, consumers mentioned less and less about the topic of Noise, let it be in a positively-rated review or negative one.

Yet, Kitchen Appliances do stand out among the SDA categories because of the high amount of positive Noise-related mentions here.
In contrast, Garment Care and Male grooming are categories where Noise seemed to be not at all relevant to many consumers.
Phase 2: Analysis of Negative Domestic Appliance Reviews
Above, we've shown the main results but out of curiosity, we wanted to dig a little bit deeper. So, to have a more detailed overview, we ran a second-part analysis on Noise — but only for negative DA reviews. Specifically, those with low score ratings of 1, 2, and 3 stars.
Results are depicted in Graph 1 below: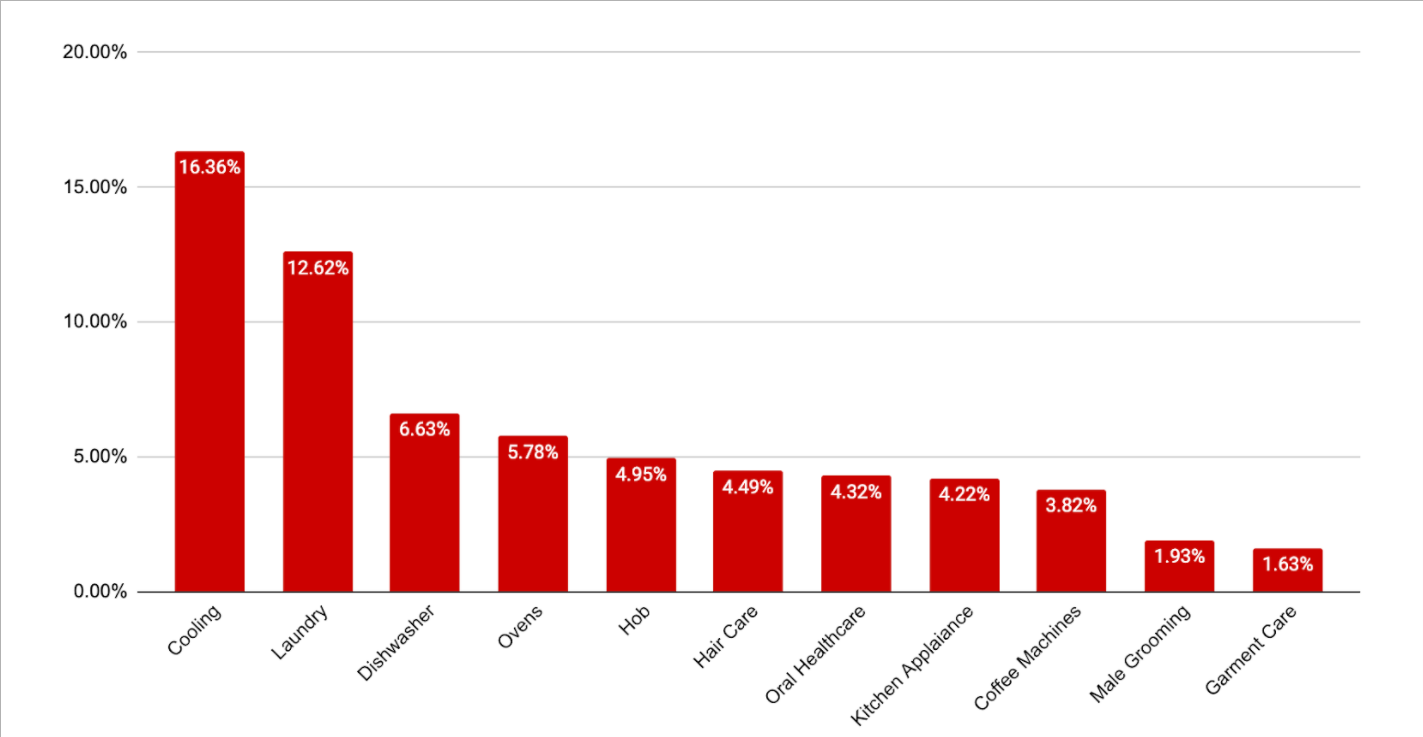 Graph 1: The percentage of negative consumer reviews (1, 2, 3 stars only) regarding Noise topic and per DA category (Source:Wonderflow)
Looking at Graph 1, we found that:
Cooling and Laundry are the categories with the highest number of negative mentions regarding Noise, respectively 16% and 12%.
Garment Care and Male Grooming were the categories where Noise was found to be less relevant.
Then, before we proceed to analyze the top three topics (Table 2 below), it must be stated that when analyzing consumer ratings and reviews, it's crucial to look also at the Relevance Score, which helps reveal the most important drivers of customer satisfaction/dissatisfaction.
In fact, this number can be both positive and negative and indicates (in percentages) just how much a certain topic has an impact on raising/lowering the product rating. Thus, the judgment of a product.
Table 2 below shows the top three topics that generated the most dissatisfaction per DA category. The first topic is the one that has the most negative impact on the product rating, according to the negative Relevance Score.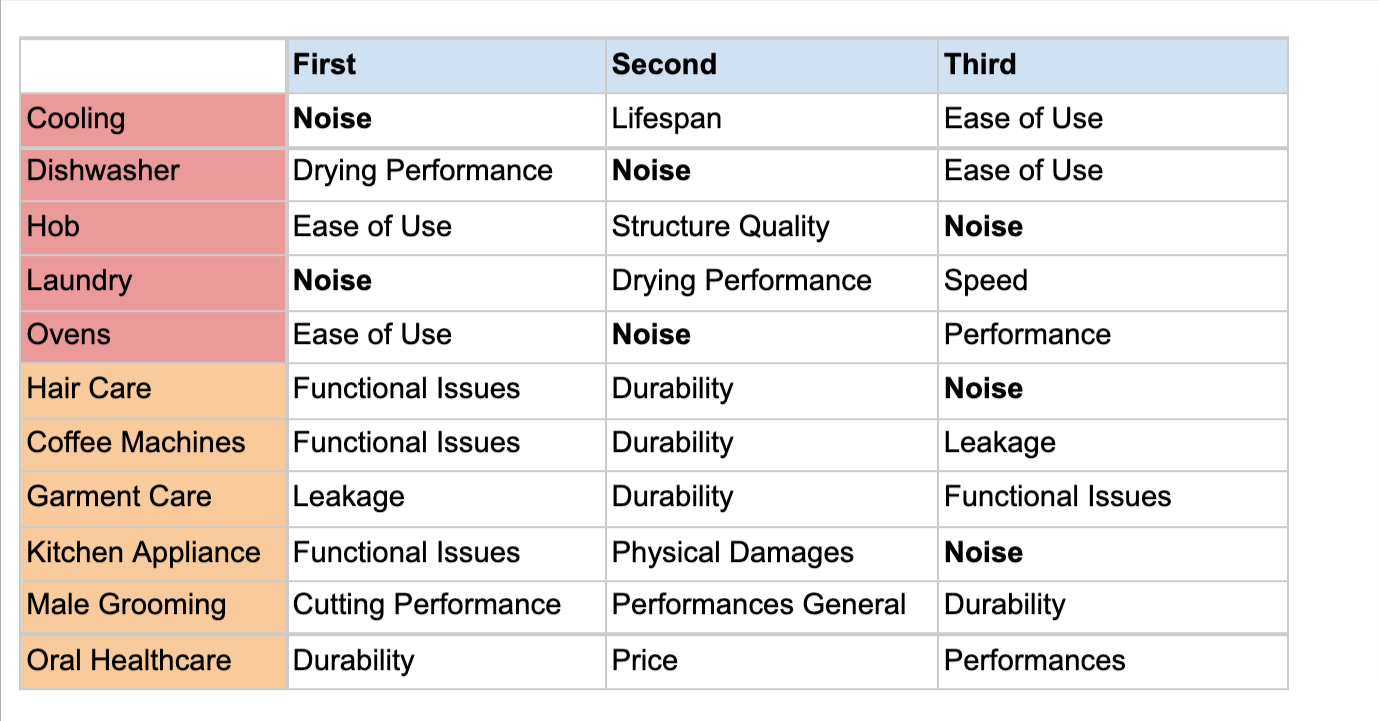 Table 2: Top 3 Most Dissatisfying Categories (Source:Wonderflow)
Looking at the top three topics for (Negative) relevance score across the 11 analyzed categories, we conclude that:
Noise appears mostly in the

LDA categories

(Dishwasher, Cooling, Laundry Oven, Hob).

And of these five sub-categories, Noise is the most important negative driver in Cooling and Laundry.

On the other hand, Noise is not mentioned as much across the SDA categories and in terms of relevance score. This demonstrates that the topic itself is

less relevant

when consumers are judging the performance of small domestic appliances.

The Hair Care and Kitchen Appliance categories are the only exceptions because Noise appears in the top three negative topics, although not as the first.
How Loud Is Your Machine Exactly? Voice of the Customer Examples
To give you a better idea of the kind of domestic appliance-related reviews we came across during our analysis, here are several examples below. They're taken from two categories, Laundry (LDA) and Coffee Machines (SDA).
These examples of related feedback simply depict what shoppers were thinking or feeling when reviewing certain (DA) products that remarked on the sounds they emitted.
Laundry Reviews
For Laundry-related products, the mention of Noise is mainly related to the 'spinning' sound caused by, say, a washing machine or dryer. This sound was said to be 'too strong' that it can even make the unit 'move.' Examples of what reviewers said included things like:
"It is too loud when spinning and wandering around through the kitchen or trying to do it."
"This model makes so much noise when skidding and the floor below shakes."
"The laundry will be clean but it makes such a noise when spinning."
"The spinning process is also very, very loud (crackling noises)."
"Unfortunately, the machine spins quite loudly and is rumbling a lot."
Coffee Machine Reviews
Regarding the Coffee Machines category, reviewers complain mainly about the way their coffee equipment worked. Specifically, how when the water is poured into the machine tank, it heats up while producing unexpected noises. Such examples include:
"It started to make this awful noise and then pour off the water in the reservoir."
"The machine does make - unnecessary - noise when drawing the water from the reserve into the heater."
"The unit is so loud when the water is heating."
"It makes too much noise when it heats up the water."
Conclusion & Recommendation: Managers Need To Quiet Things Down a Bit
From this market research conducted using our AI-driven text analytics technology, we've analyzed the popular topic of Noise in consumer electronics product reviews to investigate the impact of noisiness on customer satisfaction/dissatisfaction.
We've concluded the following key takeaways that may be useful for consumer electronics product managers (including designers to developers) to consider:
Noise turned out to be a very popular topic in general but especially in large domestic appliance-related reviews.
People talked the most about noisiness when it came to products related to Dishwasher, Cooling,andLaundry — both positively and negatively. These three categories held the highest negative relevance score. In other words, such related appliances were so (unexpectedly) noisy that they made many consumers dissatisfied. This is especially true for Cooling and Laundry-related appliances where the issue with product noisiness decreased the product's ratings.
Noise is the least relevant for consumers when it comes to small domestic appliances. In this sub-category, there's not even a high relevance score — apart from Hair Care and Kitchen Appliance-related appliances.
Overall, common everyday household appliances that are used to, for instance, wash dishes or clothes or to clean the home are often leading causes of a 'noisy' environment --- one that can potentially harm our overall well-being. As a result, there's been increasing consumer awareness of this problem and growing demand for 'quieter' appliances.
Moreover, this has led many manufacturers to become more aware of potentially noise-harmful products. In order to remain highly competitive in the market, relevant managers should consider more of implementing or designing advanced 'silent' features in household machines or equipment, particularly dishwashers, fridges or freezers, laundry washers, and dryers. Helping to reduce the sounds emitting from such large appliances will most likely improve consumers' satisfaction whilst creating an overall more relaxing living environment for them and/or their families.
Are you a global consumer electronics or domestic appliance brand seeking to learn more from your consumer feedback to improve decision-making? Book a demo with our VoC analysts to understand how our AI-dashboard works to bring you refreshing insights on nearly every market category.
(*) Appendix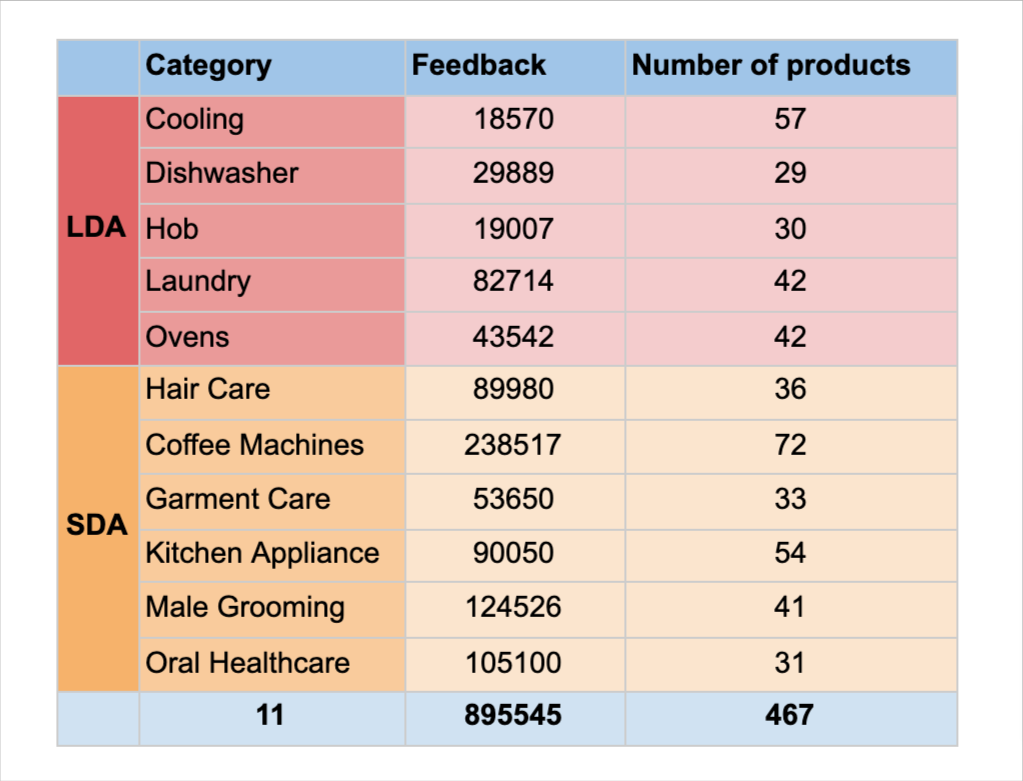 Table 1: Resume of ingested data - Source:Wonderflow
List of Analyzed Countries
Australia

Austria

Belgium

Canada

France

Germany

India

Italy

Mexico

Netherlands

Poland

Spain

Switzerland

United Kingdom

United States